Parish Vision
Our parish is a community of communities – in our diversity we find unity and strength as members of the Body of Christ. We belong, grow and connect; working together for the good of the whole body.
Our leadership is collaborative and transparent, encouraging active dialogue and applying the principle of subsidiarity (those things that can be decided at the lowest possible level are decided at that level).
The identity of Eucharistic Communities within the Parish is respected and all voices are valued and listened to.
We have a preferential option for the poor, creating conditions for the marginalised voices to be heard, to defend the defenceless, and to assess lifestyles, policies and social institutions in terms of their impact on the poor. Which calls us to strengthen the whole community to assist those who are most vulnerable.
Parish Logo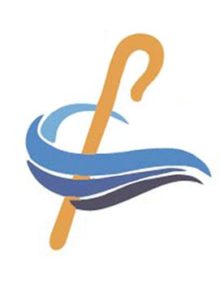 The shepherd's staff in the centre of the logo is a symbol of "the Good Shepherd." Jesus said "I am the good shepherd: the good shepherd gives his life for the sheep" [Jn10:11], and "My sheep hear my voice, and I know them, and they follow me" [Jn10.27]. Jesus is our good shepherd and He is the centre of our community. We are under His guidance and protection. We listen to His voice and follow Him.
The four shades of blue flowing water represent the Hutt Valley river, communication, peace and our communities within the Parish flowing in the same direction led by the Good Shepherd.
Pastoral Team
Meet the members of the Parish Pastoral Team
They are supported by the Parish Pastoral Council (teawakairangi.ppc@gmail.com) and the Parish Finance Committee (finance@teawakairangi.nz) which are made up of representatives from across our Parish.
Churches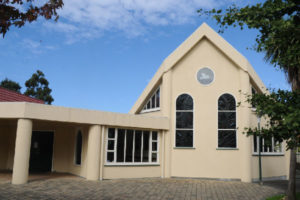 Ss Peter and Paul The church community of Ss Peter and Paul was founded in June 1850.  The site was in the present day High Street and occupied an area of over two acres bordered by the Hutt River and extending approximately 100m along High Street south from the present Andrews Avenue.
The Mission territory extended beyond the Valley to include the Wairarapa, up to Paekakariki and beyond.  French missionary bishops and priests were the pioneers of the Catholic Faith in New Zealand and it was one of these, Father Jean Forest who headed the Hutt Mission.  Father Forest built a church and adjoining house. In 1853 he also built and commenced the first Catholic school in the Hutt on the same site.  It continues today as Ss Peter & Paul School. Read More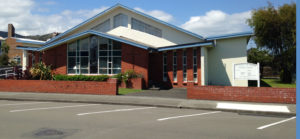 St Martin de Porres  On May 1, 1960 the Church of St Martin de Porres was blessed and in the same year the community of Avalon was constituted a parish. There has been a very faithful polish community in the area, and the community of Avalon has also ministered to the Hutt Hospital.  Read More
St Bernadette St Bernadette's, Naenae was conceived in the mind of Fr Leo Daly, Parish Priest of Lower Hutt in very austere times. He accumulated land in Naenae for a church, school, presbytery and hall, beginning in 1943, in the middle of World War II and in the aftermath of the great depression. The foresight and courage of Fr Daly and the people who backed him formed the legendary beginnings of most of the parishes in the Lower Hutt Valley.  Read More

St Michael St Michael's community also grew from the Hutt parish with the appointment of the first parish priest, Fr Joe Leahy. The church building in part came from the Trentham Camp and modifications and rebuilding by David Daily enabled it to be used as both Church and hall. From 1951 it also served as a place for the school staffed by the very first Order of Presentation Sisters in New Zealand. Through years of dedication and hard work from the people of the community, the Parish of St Michael's has flourished. The people are the heart of the Church with many cultures and traditions coming together to celebrate.   Read More
Schools & Colleges