For Small Businesses – The Pope Video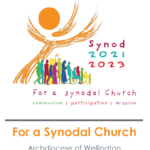 The Catholic Parish of Te Awakairangi is a diverse community, in ethnicity, age, spirituality and interests. Formed in 2015, the parish is composed of the churches of St Michael's, St Bernadette's, St Martin de Porres, and Sts Peter & Paul and covers the residential areas of Central Hutt, Avalon, Naenae, Taita, Fairfield, Alicetown, Maungaraki, Normandale, Harbour View and Belmont. Te Awakairangi is the largest of the forty eight parishes in the Wellington Archdiocese with approximately 3000 parishioners.
The Parish was given the name Te Awakairangi after the original Maori name for the Hutt River. Over time the name grew to be used as the name for the Hutt Valley. "Te Awa" means the river, and "kairangi" describes it as a precious river that meanders across the valley. As Parish we are intimately connected to the geographical area within which we are. Water is something that is precious and holy. It symbolises grace, cleansing and life. As Catholics we are connected by the waters of our baptism. As well as the name the Archbishop designated us to celebrate our feast day on Good Shepherd Sunday.